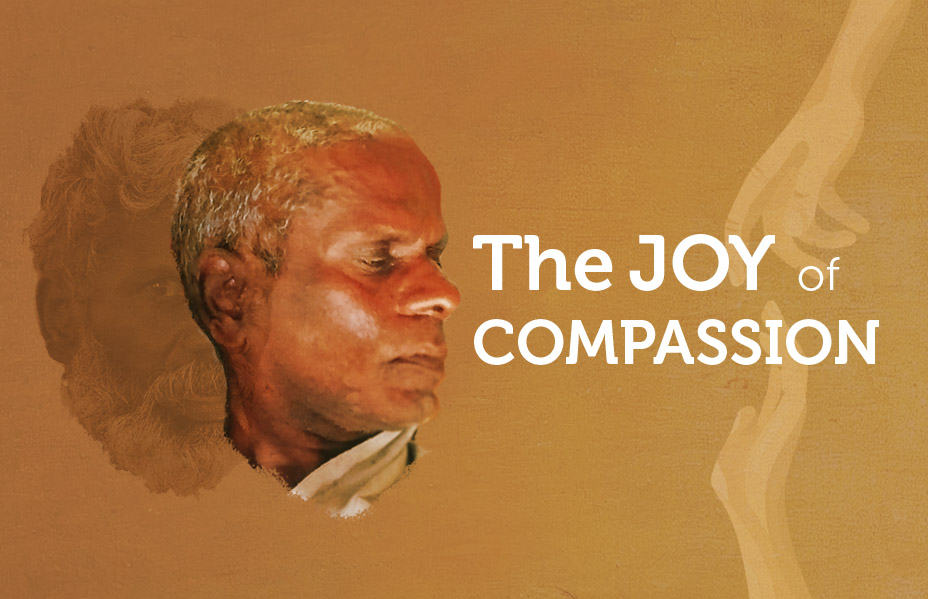 As the Director General of CHAI, I am fortunate to support thousands of children with disability, HIV, people with terminal illnesses and several community-health initiatives. However, my role is more of a supportive role, working behind the stage. It is our partners, mostly sisters, who are directly involved in the care. Like many others, in the process of loving and helping, I also go through compassion fatigue and burnout. Therefore, I too do some amount of self-care. As part of my daily morning routine, I do a little jogging, enjoying the healing power of the breeze, water, trees, birds and so on. On Aug 19th, during my morning routine, I noticed an elderly man struggling to move around. After a few days, on Aug 23rd, I saw him in a miserable state, lying down in pain, unable to move. I experienced 'compassion', the uncomfortable feeling of my heart breaking – one part of me nudging me to help him, and the other part of me, wrestling with the consequences of helping – including legal complications of helping a stranger, neglected and dying on the street. We need regulations to prevent abuse, because unfortunately, there are some people in our society who exploit the vulnerable, including organ harvesting. However, sometimes these legal issues evoke some kind of fear in us, which becomes an obstacle to doing a compassionate act, even when we want to help.
I tried to put off the urge to help this neglected, anonymous man – trying to be a little kinder to myself, in the midst of all my existing responsibilities and commitments. How much ever I tried, the urge to help, the heartbreak was not going away. As I ranted with Fr Sarath C.Ss.R, and Fr Siby CMF, my companions in ministry, it became clear to us that we need to help. Fr Siby CMF and Fr Santhosh CMF figured out the legal requirements. The government elderly care helpline of Hyderabad was very prompt in responding. However, they had limitations in acting immediately. That night, along with Fr Sarath and Fr Babu, O.Carm, we provided him 'paradise biriyani'. He enjoyed it and drank a lot of water. The next day, Aug 24th, early morning, Fr Siby CMF, and Sr Shanthy JMJ, along with Nirmal and Samuel, spent time removing the maggots from his wound, cleaning and dressing. Meanwhile, a shabbily dressed young man came around and told that he was feeding this elderly man and keeping him alive. The kindness of that shabbily dressed young man moved me, because he himself had just a menial job, in a hotel, trying to keep his life together. By afternoon, Sidharth from the government elderly care helpline, did the necessary legal procedures along with the police and joined us in shifting the man to Nirmal Hruday Bhavan, of the Mother Theresa sisters. On Aug 25th, Sr Ransom MC told me that on arrival at Nirmal Hruday Bhavan, he was given a good bath, more maggots removed from his wound, and he slept like a baby in his new clothes.
Most of us are involved in compassionate acts in our daily lives, as a parent, sibling, colleague, neighbour and so on. Some of us are fortunate to be a little more reflective and cherish the joy that comes from compassionate acts. Some people still make a choice to be a sister or a father. Why? Why do they help the neglected and abandoned, without expecting monetary benefits? They experience and understand the JOY of an act of kindness, and compassion – something more rewarding than money or what can be bought with money. Blessed are those who are kind and compassionate, theirs is the Kingdom of Heaven!
Click here to see the video of the story.
Fr Dr Mathew Abraham C.Ss.R,
Director General, Catholic Health Association of India