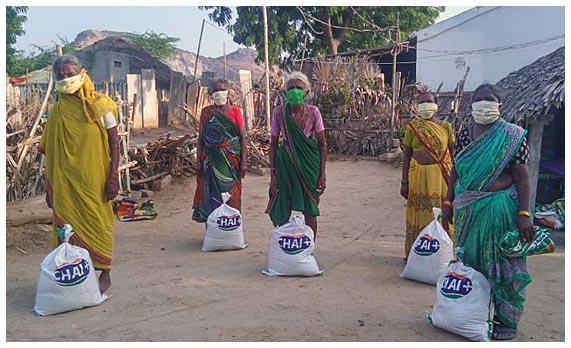 Over the last two months, CHAI has been collaborating with, and supporting member institutions within its network through various initiatives to mount an effective response to COVID-19 in the country.
Training Healthcare Professionals: In addition to the four online, self-paced training courses for clinicians, hospital administrators, allied healthcare workers, and community health providers, CHAI is facilitating a training programme for 50 sister doctors in partnership with the University of Melbourne. The programme will provide sister doctors with evidence-based information and tools to address questions around COVID-19 from patients, colleagues and the general public.
Socio-Economic Support: CHAI, through its member institutions, is also gearing up to provide food kits every month for a period of six months to 1,000 families of daily wagers, and other economically vulnerable and marginalised sections of the society affected by COVID-19. Specifically, CHAI shared an 'Expression of Interest' call with its network, and selected a few member institutions to implement this initiative. So far, CHAI has provided assistance to 500 families in two districts in Madhya Pradesh and one district each in the states of Uttar Pradesh and Bihar. In addition, CHAI is raising awareness within the community and training them on hygiene, safety and hand washing practices, while distributing soaps and face masks. CHAI is also leveraging technology to monitor the implementation of this initiative effectively. Through a novel geotagging application, the member institutions can provide real-time information to CHAI on the number and place of distribution of the kits. CHAI is now scaling up the initiative to an additional seven states in the country (Andhra Pradesh, Karnataka, Maharashtra, Odisha, Rajasthan, Tamil Nadu, and West Bengal).
With the generous support of our partners and well-wishers, we hope to continue to support our healthcare personnel and vulnerable families during this difficult time. We gratefully acknowledge the support of Missio Achen, Misereor, BEGECA, Christoffel-Blindenmission (CBM), Italian Bishops' Conference, Hilton Foundation, Hilton Fund for Sisters, Allen, Maria Myers, Nathan Grills, Patrons of Mary Glowrey Museum, Melbourne and other individual donors.
Rev Dr Mathew Abraham, C.Ss.R
Director General, CHAI