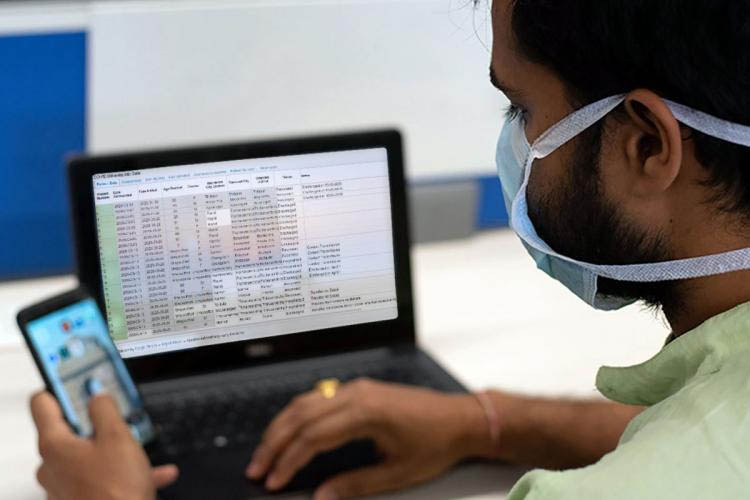 CONTEXT
We are in the midst of the second wave of COVID. Unlike 2020, there is a heavy burden on the healthcare system. There is a lack of hospital beds, oxygen, medication at certain pockets in the country and people are frantically looking for help. However, there is also a lot of goodness and solidarity happening around. Many would like to volunteer to help, but not sure how to go about doing it. There is a lot of information, websites, apps, both government and civil society groups, trying to make a difference. In this context, CHAI is sharing some necessary information for its collaborators to get involved and make a difference during this COVID crisis.
GUIDELINES
CHAI will not be responsible for all that is happening through these platforms. You will have to figure out what is the best platform to work with.
CHAI will not be responsible for your safety and protection. You will have to figure out what is feasible for you and take responsibility for your safety while getting involved.
Everyone is very busy, stressed and handling multiple calls. Sometimes they take time to respond or cannot call back. Be patient when dealing with families, patients, vendors, hospital staff, etc.
If they don't respond on phone (especially vendors), WhatsApp them or keep trying.
Officials are cracking down on those who share info that leads to black-market vendors. Always give a disclaimer (E.g. The availability of the resources mentioned is subject to change. We do not condone any black market practices and you must verify prices yourself, by discussing with the vendor directly. Please do not make advance payments or any financial transactions before verifying everything at your end.)
Most supplies (beds, oxygen, medicines) are finishing very fast. You need to check availability in real-time and then respond to requests before sharing info.
WAYS TO VOLUNTEER
Beds, Oxygen, Medicines, Home Nurses, Food facilities, Ambulances, Cabs, are all areas that are needed. Requests are pouring in on social media. Get together a group of volunteers and use existing sources (sites, twitter, instagram, etc.) to search for solutions and respond after verification.
Local NGOs are helping in various cities by delivering food, oxygen, support to patients. This information is given below and will be regularly updated. You can also assist the same organizations financially.
Follow accounts on Twitter / IG that are collating information. You can help them verify/respond to the requests they amplify.
https://covid19-twitter.in/ – an excellent way to search Twitter for requests and availability. Check requests on Twitter, source solutions from various sites, verify and respond to the request.
Sign up with existing apps/sites to volunteer with them (some options are given below).
Verify sources being shared on WhatsApp groups: call and verify the information and shut down fake/outdated information.
SOME SOURCES
Social Media – particularly Twitter and Instagram – are the best sources at present for real-time information. A few other sources are given below; but please verify that the information is updated and correct before sharing in response to a request:
covid19-twitter.in
covidrelief.glideapp.io
linktr.ee/COVID19support.India
covidplasma.online
hyd covidresources.com
indiacovidresources.in
covidbedsindia.in
covidbeds.info
life.coronasafe.network
covid.army
covidhelplinebangalore.com
covidelhi.com
so.city/covid19
external.sprinklr.com
coviddelhi.com

You may access these sites / groups directly.
PLACES YOU CAN VOLUNTEER
---
INTERNATIONAL
---
Oxygen Concentrators – Khalsa Aid
Khalsa Aid has arranged for hundreds to Oxygen Concentrators to be flown to India. You can assist by donating an Oxygen Concentrator or help them financially. For how you can help, see image below and visit https://twitter.com/khalsa_aid
For USA : https://twitter.com/KhalsaAidUSA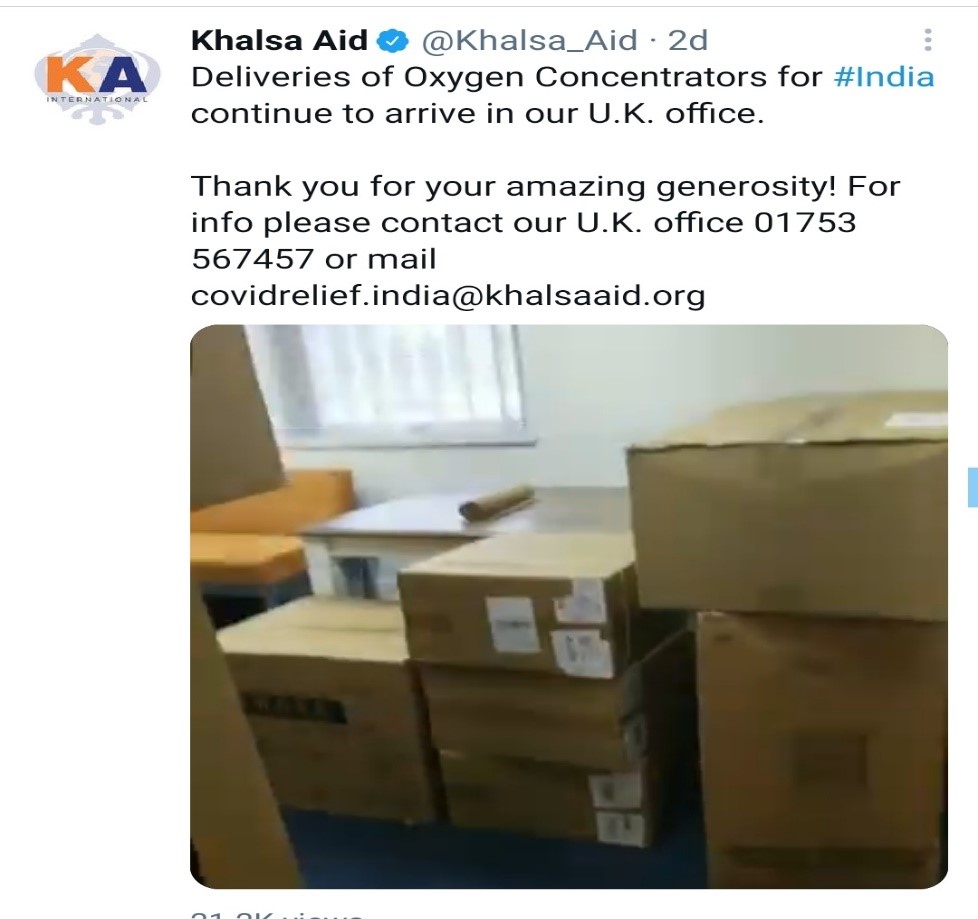 ---
Oxygen Concentrators
At present, you can buy an Oxygen Concentrator from your country of residence and FedEx / DHL it to your family / hospital / NGO etc. in India. This has already been done by individuals from Dubai, Singapore etc. Please check specifications from your resident country for this.
More options will be updated shortly.
---
PAN INDIA
---
Medical Professionals for Medical Helpline (Training will be provided)
Medical Helpline for Covid is a voluntary response from healthcare workers and allied professionals to address the rising number of people who require advice and support during their Covid illness.
ANY doctor who want to support and respond to people who need help in COVID-19 management at home through the helpline may kindly enroll via this link below:
https://tinyurl.com/Covid-Helpline-Volunteer
---
Project Step One
"How can I help reduce the suffering due to Covid in India?", if this question bothers you as well, then here's your answer:
With just an hour of your time, volunteer to guide patients navigate the illness, understand the treatment, and help save lives.
Sign up at: http://bit.ly/TakeStepOneNow
---
Good Food Project
The Good Food Project offers meals and other essential services to crematorium workers. They are always looking for volunteers to deliver meals and coordinate. You don't have to be from Delhi to volunteer. You can join their group by clicking the link their bio at Instagram:
https://www.instagram.com/goodfood_project/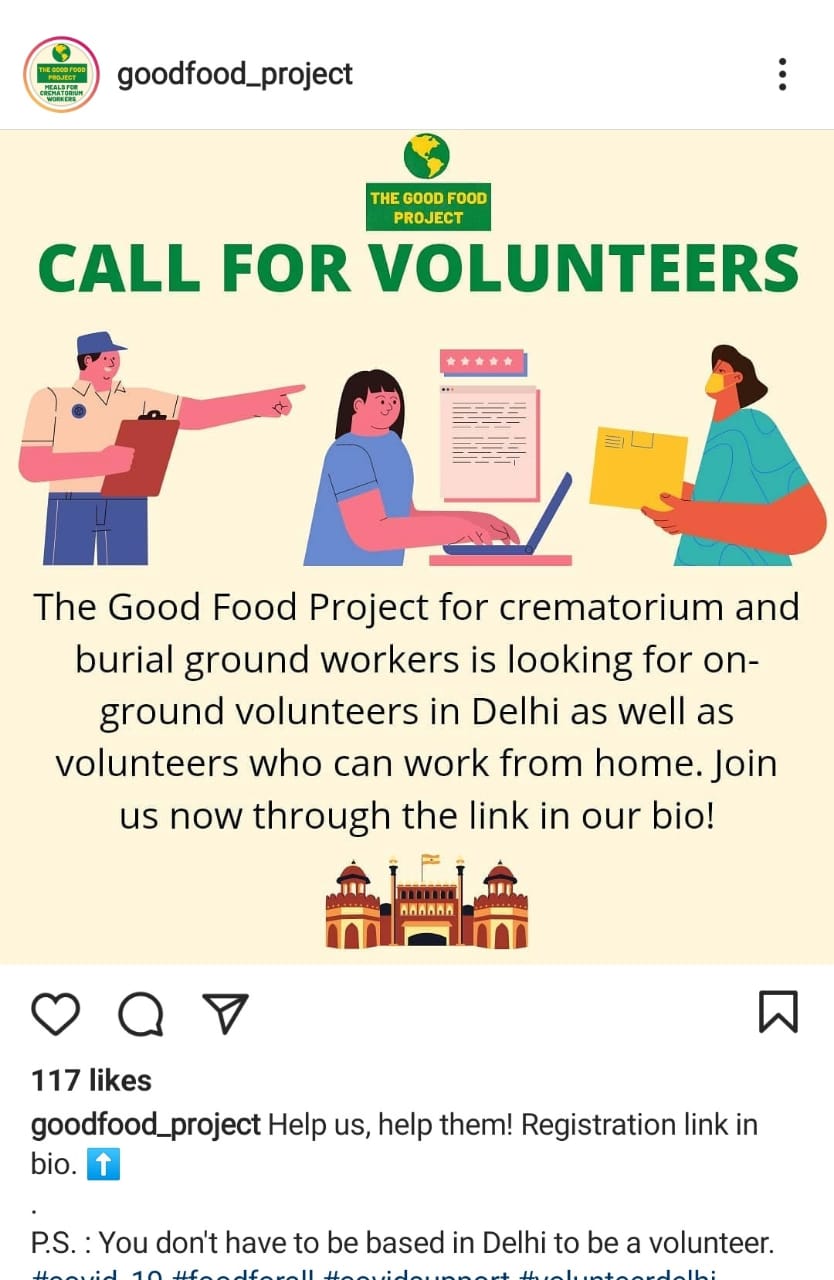 ---
Online Volunteering
Any of the sites above could use more volunteers. Connect with them directly and volunteer your time. A few examples
https://linktr.ee/COVID19support.India – Drop your resources or leads. Connect with them on IG to join the volunteer team.
https://hydcovidresources.com – Assist on the chat function in the app or connect with them on IG and find out how to join the team.
https://covidrelief.glideapp.io/ – connect with them and explore options for volunteering.
---
Plasma Donation
Even though there is insufficient data to recommend for or against the use of plasma for treatment, there are several requests across India. Those who are willing to donate plasma, please sign up at the link below and they will coordinate to connect you to those in need.
https://docs.google.com/forms/d/e/1FAIpQLScMjk7hlK9cBcFmqqsdsMY5K6ImHV7oH0rBBBJRUel7nknU_Q/viewform
Instagram: @covidaidresources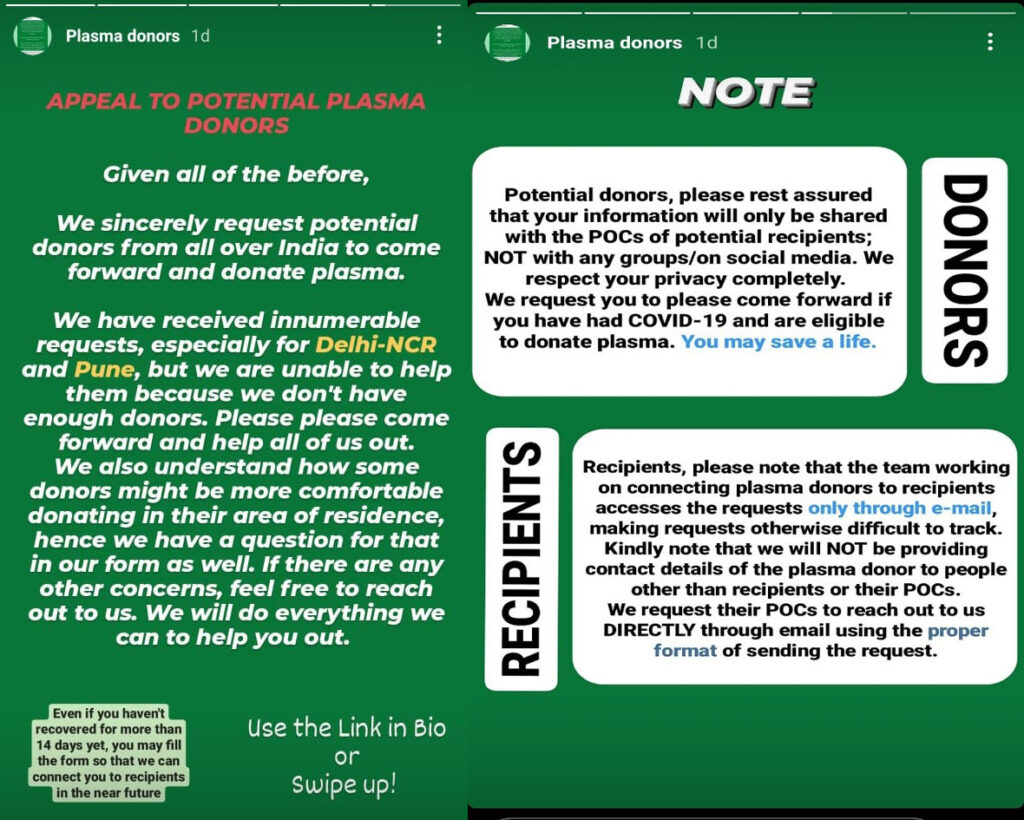 ---
DELHI
---
Hemkunt Foundation
This organization has been arranging and providing oxygen cylinders since the beginning of this crisis. Their office is in Gurugram. They requested volunteers on 28th April. Those who wish to volunteer can still try at their office or assist them financially.
Instagram: @hemkunt_foundation
Twitter @Hemkunt_Fdn
Facebook @hemkuntfoundation
Whatsapp: 99906 91313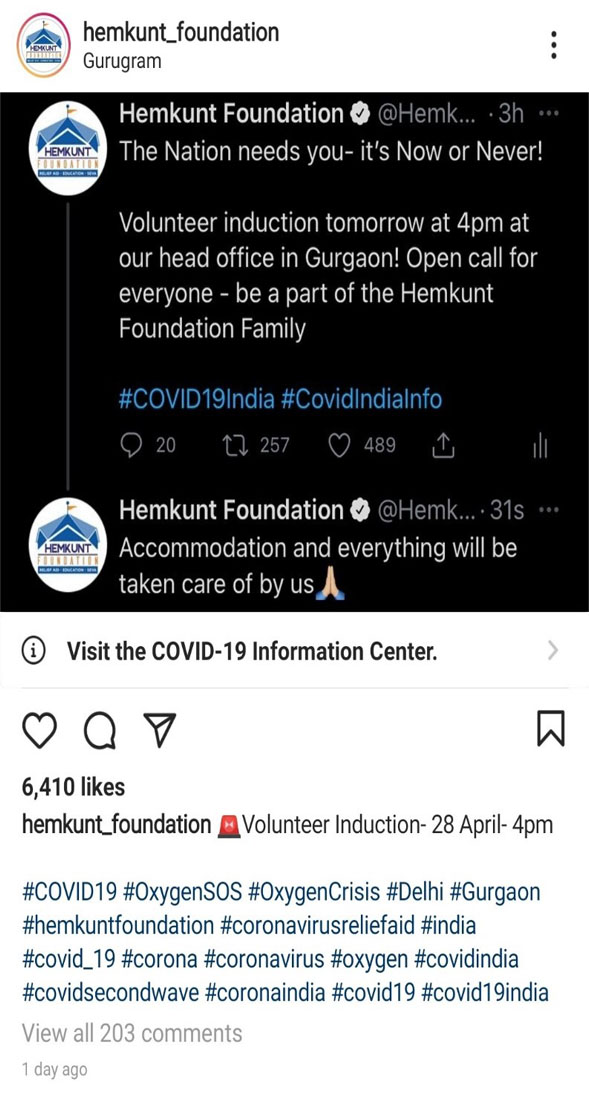 ---
Oxygen Supply – Volunteers
Message release date : 01/05/21
Due to the extreme demand for oxygen in Delhi, most of the suppliers are getting numerous calls & they are not approachable over a call anymore.
In order to help people in distress, we have formed a team of volunteers who are stationed at different sites across Delhi / NCR to give us real-time updates of where oxygen stock is available and cylinders are being filled at that point in time. Places where the volunteers are still not in place, we have tried and established a reliable source in the vicinity of the outlet. They help us with updates during these hours in real-time so that we can guide people to the nearest place to get Oxygen.
IF YOU HAVE A RESOURCE TO SPARE YOU CAN ASK THEM TO
1. Visit the above location yourself and verify availability in advance.
2. Stand or request anyone to stand in cue on your behalf early morning.
If you want to volunteer and are willing to be stationed at an oxygen supply point to update real-time stock information, contact them on https://www.facebook.com/Oxygen-in-Delhi-NCR-104656971780159
---
GURUGRAM Relief Work
Calling residents of Gurugram who are willing to volunteer for relief work, including providing meal services.
Sign up here: Gurgaon Relief Volunteer Sign up
---
BANGALORE
---
Hospital Volunteers
Archdiocese of Bangalore invites YOUTH VOLUNTEERS to assist the Hospitals in these times of crisis. There will be a training program; but those who wish to join immediately can also do so.
Services expected: To serve food & water to the patients and assist the hospitals in non-medical assistance. Talking to patients maintaining social distance.
Duration: 6 -7 hours a day any one shift; could volunteer for 2-3 days, a week or more;
Food & Accommodation: Accommodation is arranged at St. Camillus Study House, Upasana, Balaji Nagar, Dharmaram College Post, Bengaluru-29, near Christ School. Food will be served. To & fro travel to accommodation place & Hospital is arranged.
Precautions: Volunteers will be trained on how to be in the hospitals & also after the duty hours (self quarantine, etc.); PPE Kit will be provided; All Volunteers will be guided, accompanied & monitored by Health Staff and ID Card will be provided.
We need dedicated & committed people for this noble task
For more details contact:
Fr Anil, Youth Director 9481585219; Nevin, ICYM DEXCO – 7829777135 or Fr Baby Ellickal MI, Provincial, Camillian Fathers – 9448084061
Join the Covid Volunteer WhatsApp group: https://chat.whatsapp.com/EcSY01MtK5cBY14Kcmbm4z
---
Support Children whose parents are affected by Covid
A community of schools has decided to focus efforts on the needs of children that are having their worlds turn upside down due to parents falling sick or even losing parents. Keeping in mind that Bangalore is a city with a large number of nuclear families, they are preparing for the worst and to figure out how to help where required. To know the requirements to volunteer, please read this document.
And to sign up to volunteer: https://docs.google.com/forms/d/e/1FAIpQLSfoj7Z7ctEPrXuFZTXtCPzxa8HEiHOJ3Lfv07YDTCD_-oM7og/viewform
---
Medical Professionals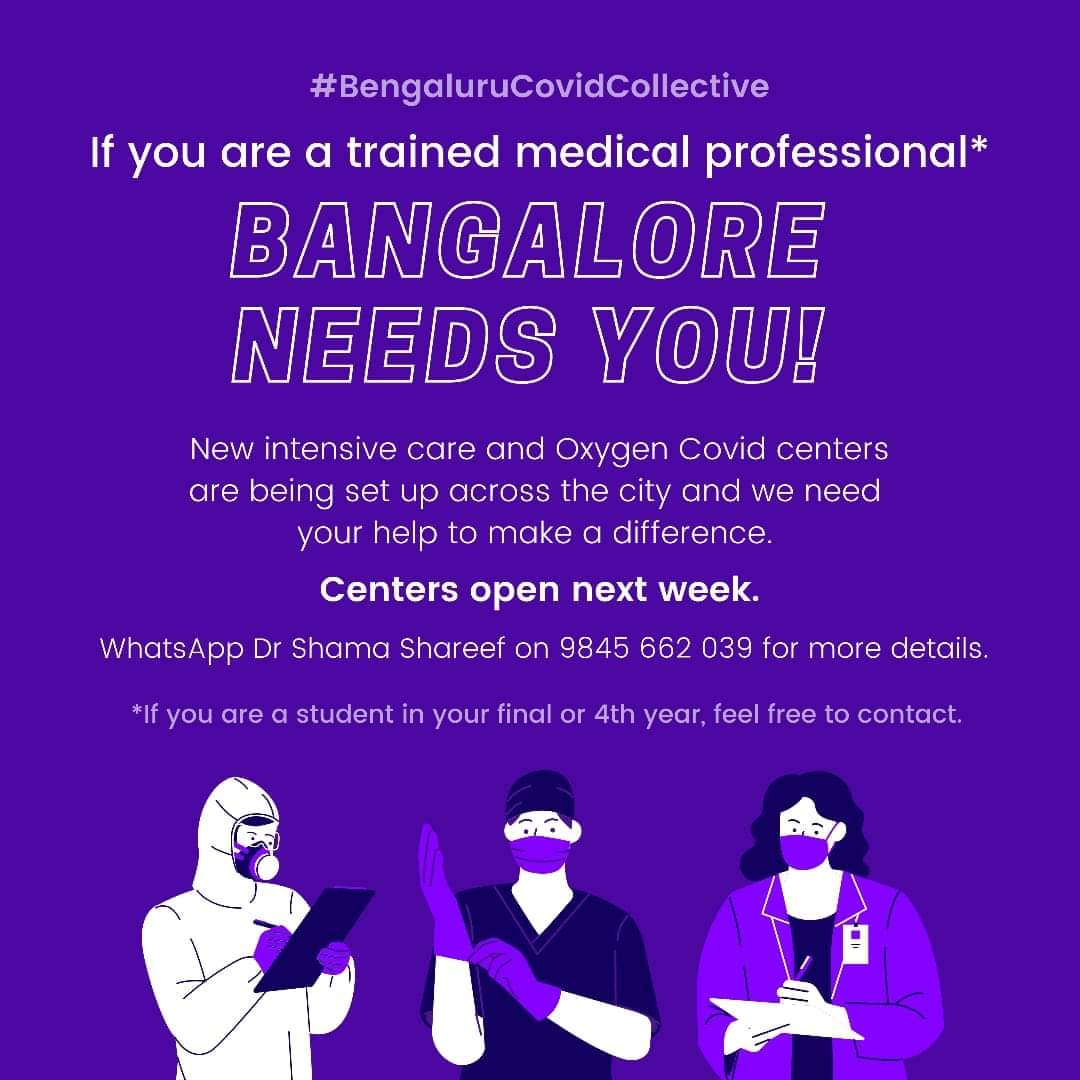 ---
Corona Care Bengaluru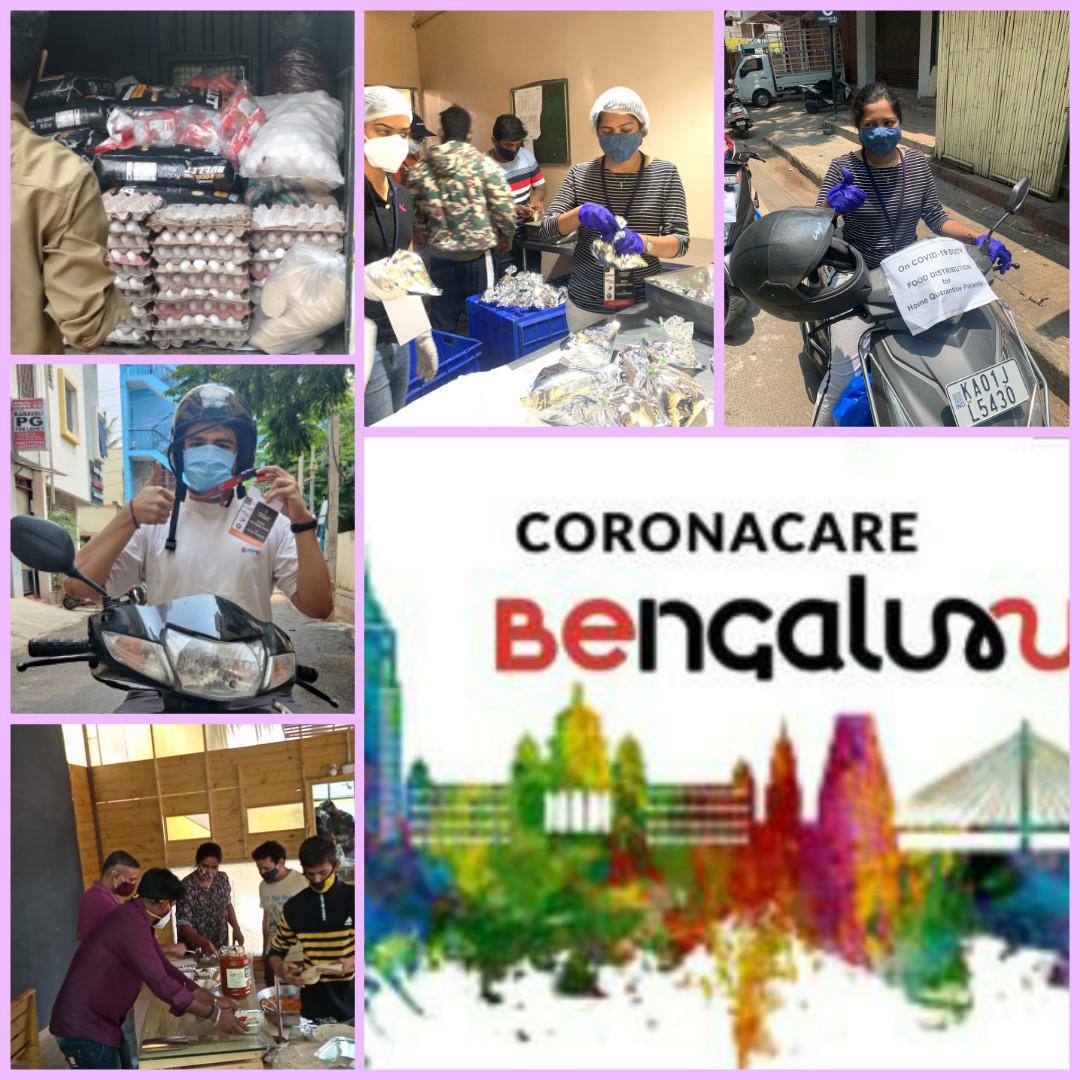 Corona Care Bengaluru is providing ready made food for COVID affected persons and families. It is an initiative of various leading NGOs in Bangalore like Hope, Breads, Echo, Aifo and Good Quest Foundation. You can volunteer to join the team in preparing food, delivering it or coordination.
Contact person: Sibu George : +91 94480 71973
Coordinator : Fr George Kannanthanam
---
TAMIL NADU
---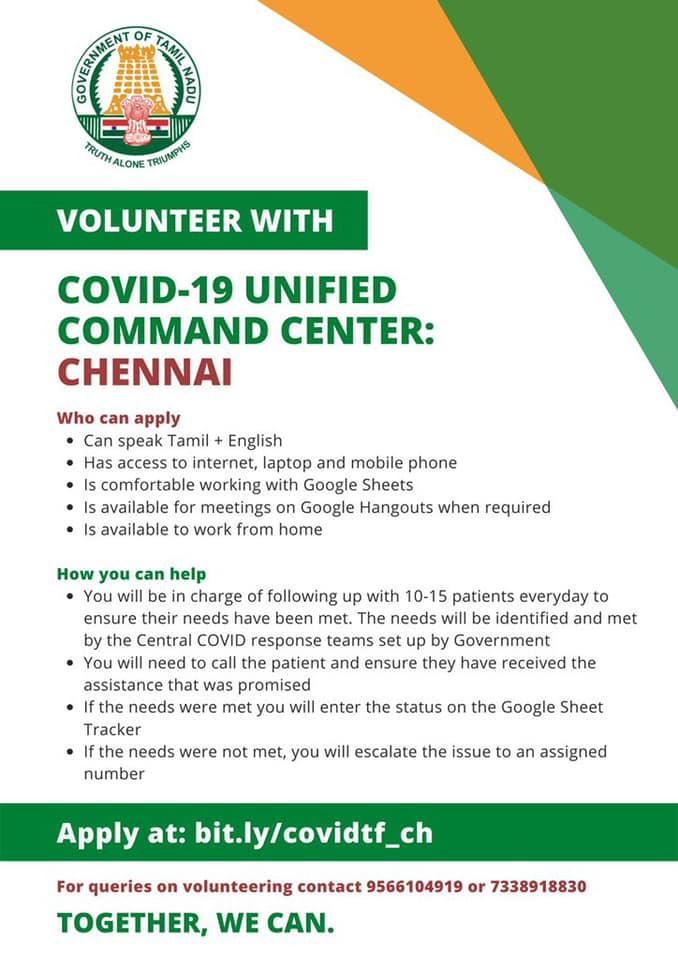 To sign up to volunteer for the Covid19 Unified Command Center – Chennai: bit.ly/covidtf_ch
---
GOA
---
Volunteer with the Department of Health Services, Goa.
Ensure you read the requirement for volunteers outlined in the form (link below). Please fill out the form if you'd be willing to help, or share widely so the required resources can be gathered. – Kheya Melo Furtado, Ph.D., Goa Institute of Management
https://docs.google.com/forms/d/e/1FAIpQLSd7vwXzni525AdoTQfPpJqL5jBlqsWoTOx0mgckiFjv98fziA/viewform
---
PATNA
---
An opportunity to serve the country during the Pandemic.
Kurji Holy Family Hospital is looking for volunteers for their
1. Help Desk
2. Vaccination Centres
3. Dietary / Kitchen
4. Deliver food at wards
5. Moving O2 Cylinders
PPE kits and food will be provided. Volunteers will be called in shifts x 2 during the daytime only. Doctors and Nurses are also required
To sign up to help, apply here https://forms.gle/gvZ3RYmisLzQuzBF7
For more details, please contact Fr Amalraj +91 94302 18158
---
Other options will be added shortly.
If you know of other volunteer options or ways to help; or need clarifications on this, please send the details to 72599 22711 – Whatsapp or [email protected] and we will amplify.