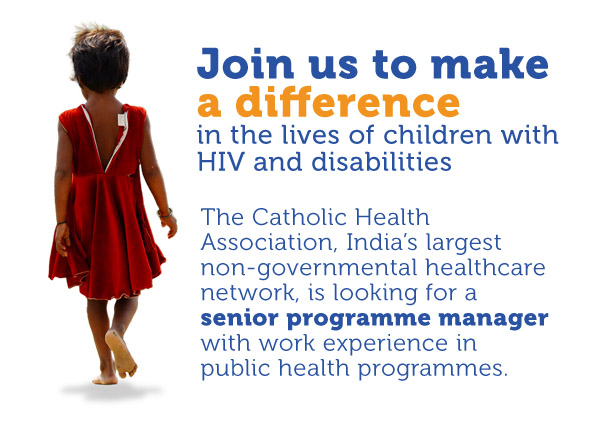 CHAI is looking for a senior programme manager who is passionate about supporting children living with HIV and disabilities.

Title – Senior Program Manager (Children living with HIV and disabilities)
Program implementation and monitoring
Plan, monitor and implement program activities related to the project with timely achievement of the intended results as per project deliverables
Children affected by HIV, disability, community and eye health, resource mobilization and networking
Coordinate activities at the institutional level, community level, trainings and networking meetings
Conduct various trainings as per project requirements with the creation of modules and, outcome assessment
Conduct networking meetings among stakeholders
Use of excel based or IT-based monitoring including the use of relevant dashboards to measure and rectify program metrics
Travel and reporting
Travel to selected site locations and monitor activities
Collaborate with implementing partners and collect programmatic reports and financial documentation
Developing high-quality reports for projects being implemented by CHAI and ensuring technical accuracy of the narrative facts and figures in the reports
Develop concept notes and proposals and meet with stakeholders to acquire resources for expansion and sustainability of the program
Donor reporting
Communicate with project donors and submit programmatic and financial reports as per determined timelines
Organize trainings, build the capacity of the internal team and monitor the work of the team
Lead the preparation and submission of progress reports (narrative & financial) to the funding organizations and other documents
Timely correspondence with donors
Ensuring judicious utilization of funds
Organizational tasks
Assist in any other tasks related to program management and reporting as required by the organization
Required educational qualifications and experience:
The ideal candidate should have completed MSW/MA/MBA/MPH from a reputed institute.
A total of 12 years of work experience with a minimum of five years in leading large programmes
Prior experience of working in Public Health programmes
Ability to use MS Office.
Desired skills:
The ideal candidate should have:
Excellent communication skills, both verbal and written.
Should be able to plan and execute various tasks individually with minimal supervision, and should also be a team player.
Should possess analytical skills
Should be organized and follow due diligence in execution of various tasks.
Resume Submission:
Interested candidates may fill in the following survey by 26 June 2022
https://www.surveymonkey.com/r/HY95RMX
Note: Due to the high volume of applications expected, only short-listed candidates will be called for the interview.